Meet the singers who comprise our vintage trio!
And our fantastic stand-ins!
---
Susan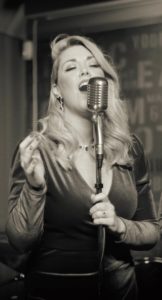 …is a graduate of the University of Aberdeen where she studied music teaching before earning a place at the Royal Academy of Music in London on the post-graduate musical theatre course. Susan has been a professional singer for many years and enjoys singing in an array of styles and genres and is very excited to be the founding member and one third of The Vintage Girls! She has worked with many industry professionals including Brian May and Jason Robert Brown and has performed as a singer, and actress in varying roles throughout her career. Susan recently performed in the prestigious London jazz venue – Pizza Express Live in Soho – and is a keen song-writer – writing original material for The Vintage Girls as well as her own music. Susan had a once in a lifetime experience recently – singing with the one and only Michael Bublé – we are hoping this won't be the last we hear of it! Susan loves to delve into the world of close harmony singing and all things vintage and retro!
Favourite Pin-Up: Marilyn Monroe
Favourite Quote: "Act as if what you do makes a difference; it does." (William James)
Favourite Vintage Song: Mr. Sandman
---
Mary

… Is a graduate from the Royal Northern College of Music with a 1st Class degree in Popular Music and Performance. Specialising in vocal studies, Mary has been scouted to perform internationally as a lead and backing vocalist in Shanghai, Denmark and across the UK with various organisations. She has received masterclass's with the likes of Snarky Puppy, Jason Rebello, Annabel Williams and Mary Hammond. Although Mary is never one to shy away from the lime-light – she enjoys learning the importance of blend and working to create a uniformed sound with her vintage sisters. Oh, and she does love a red lippy!!
Favourite Pin-Up: Billie Holiday
Favourite Quote: "You're off to great places! Today is your day! Your mountain is waiting, so get on your way!" (Dr. Seuss)
Favourite Vintage Song: Don't Look Back in Anger
---
Rebecca

…is an actor and singer from Dundee. She began performing with The Vintage Girls in 2016, taking a year out in 2018 when she earned a scholarship to Acting Coach Scotland's Professional Diploma in Stage and Screen Acting. She has been singing since a very young age and is particularly passionate about musical theatre – having been cast in the Chris Moreno's national tour of Annie at the age of 11. Rebecca has always loved performing and is thrilled to be on this journey with her vintage sisters. 
Favourite Pin Up: Ava Gardner
Favourite Quote: "I don't know where I'm going from here, but I promise it won't be boring."  (David Bowie)
Favourite Vintage Song: Sing Sing Sing
---
Verity
… is an undergraduate at St.Andrews University. She has a long background in musical performance, playing the role of Cosette in Les Miserablés as well as attending vocal masterclasses, countless choirs and has sung alongside Lesley Garett. Verity has dreams of doing a post-graduate course in vocals and is heavily inspired by her fellow vintage sisters. Jazz music is her forte and she loves anything and everything swing. Verity is very excited to be on this retro journey with the rest of the girls!
Favourite Pin-Up: Dorothy Dandridge
Favourite Quote: "I'm an instant star. Just add water and stir." (David Bowie)
Favourite Vintage Song: Life on Mars